Star Fox Zero - First Print Edition
PG - Parental guidance recommended
Others also bought
Product overview
Star Fox Zero - First Print Edition Contains:
Star Fox Zero Steelbook Case
Star Fox Guard Game
Star Fox Zero Game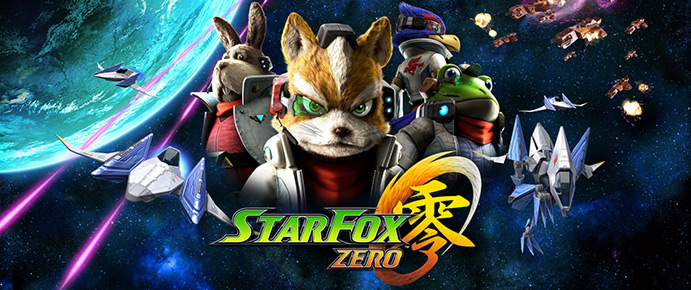 The Star Fox team arrives on Wii U for a new adventure!
Fox, Falco, Peppy and Slippy save the Lylat system in this new deep space dogfighting adventure. Using the Wii U GamePad controller and the TV together creates a unique interface that allows players to experience the game with two different viewpoints within the Arwing – aim and shoot enemies in one direction while flying in another. This frees up the TV for a more cinematic flight experience. Then, pilot the Arwing with its new Walker transformation, along with the new Gyrowing and the Landmaster Tank, to traverse interplanetary terrain.
Fan favorite characters return with new and well-known dialogue from Fox McCloud, Slippy, Peppy, Falco and more, which can sound like they're talking in your ear like a from a headset with clever sound technology.
Players can intuitively pilot an Arwing by simply using both the right and left control sticks as a control stick to perform familiar flight maneuvers, such as the somersault, U-turn and a Barrel Roll.
Replay the same exotic planets with other vehicles and extra missions can be selected on top of going through the story.
Two different viewpoints, the traditional style of TV gameplay and the new unique cockpit view on the Wii U GamePad controller combines to create a unique interface to aim and shoot in one direction while flying in another. This frees up the TV for more cinematic moments in a brand-new all range mode.

Pilot the new and improved Arwing with its new Walker transformation and take control of a new Drone type plane, the Gyrowing. The Landmaster Tank returns, equipped with a new, limited flight form.
As players progress through the game they'll be able to return to earlier missions to find hidden collectibles and alternative routes that offer brand new challenges. For instance, the standard route through the bioweapon-filled planet Fortuna ends with a climactic battle against the imposing Monarch Dodora, but after clearing a certain story mission, confident pilots can return to Fortuna and choose to branch off in pursuit of Star Wolf instead. With multiple paths through the game bringing new challenges and surprises, there's one to suit every skill level and play style.
Pilots up for an even fiercer challenge can tap in their Falco amiibo to unlock the Black Arwing, which has more powerful weapons but weaker defences, making it a potent but fragile weapon. Tapping the Fox amiibo unlocks a retro Arwing styled after the original Super NES Star Fox game, complete with retro music, to be used in the first Corneria stage.
Launching alongside Star Fox Zero is the companion game Star Fox Guard, which puts players in the ultimate security guard job – defending mining sites against waves of robot invaders. The TV screen displays a bank of 12 surveillance camera feeds, each monitoring a different part of the mining site, and it's up to players to switch between cameras to spot enemies and blast them before they reach the central tower. It'll take supreme awareness and multi-tasking skills to fend off the relentless robot approach, so it helps to have friends on-hand to call out camera numbers that show approaching enemies. Help is also on hand via the Fox and Falco amiibo, which can each be tapped once per day to call in team Star Fox for a powerful air strike that destroys attacking robots.
Video trailer
Screenshots