PlayStation 4 500GB Console (Refurbished by EB Games) + 1 Preowned Game (preowned)
PlayStation 4 | Console Hardware
MA15+ - Not suitable for people under 15
Others also bought
Product overview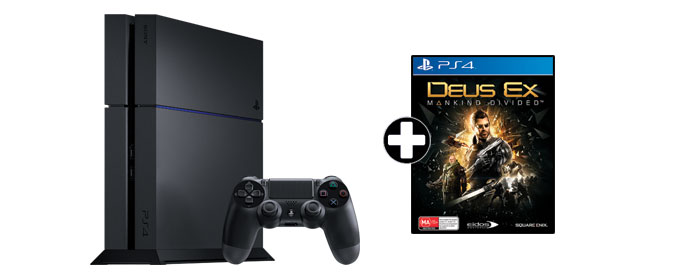 *Colours of the console and controller may vary. Vertical stand not included.*
This Bundle Includes:
PlayStation®4 500GB Console (Refurbished by EB Games) (Colours may vary)
DUALSHOCK®4 Wireless Controller (Refurbished by EB Games) (Colours may vary)
Preowned Deus Ex: Mankind Divided
It's not just Preowned...
All Preowned consoles sold by EB Games have undergone rigorous checks by our refurbishment team to make sure the console you purchase lives up to the awesome standard our customers expect.
Before selling a Preowned console we:
Inspect all ports and inputs
Perform a check on all hardware components
Format the hard drive and restore the system
Give it a good clean!
On the rare chance your console is anything less than awesome give our Customer Service Team call on 13 39 30 and we'll organise a free return and replacement
What's included?
PlayStation®4 console (Colours may vary)
DUALSHOCK®4 Wireless Controller (Colours may vary)
AC power cord
HDMI cable
USB cable
PlayStation 4
Designed by the most inventive minds in video games, PlayStation 4 will let game creators unleash their imaginations to develop cutting-edge experiences never before possible.
Ultra-fast processors, advanced graphics performance and unrivalled system memory. What does that mean for the games you'll play? They're bigger, faster, more innovative. And more than you ever imagined.
DualShock 4 - Complete Control
Interact with games in all the ways you're used to, and some you never expected. As well as more precise dual analog sticks and inbuilt motion sensors, DUALSHOCK®4 also includes touch controls and the innovative SHARE button.
SHARE button - Share the fun instantly
Use the SHARE button on DUALSHOCK®4 to share your gameplay videos and pictures in the blink of an eye. Stream your live gameplay to Ustream or record, edit and upload videos to Facebook in seconds.
PlayStation® App - Stay Connected with PlayStation
Chat with your friends, watch their latest gameplay videos and give them tips using the PlayStation® App for mobile and tablet devices.
Deus Ex: Mankind Divided
The year is 2029.
Mechanically augmented humans have now been deemed outcasts, living a life of complete and total segregation from the rest of society. Now an experienced covert operative, Adam Jensen is forced to operate in a world that has grown to despise his kind. Armed with a new arsenal of state-of-the-art weapons and augmentations, he must choose the right approach, along with who to trust, in order to unravel a vast worldwide conspiracy.
Become Human 2.0
Become the ultimate augmented covert agent. Choose from a vast array of cutting edge weapons and augmentations, customizing them exactly to your desired specifications. Unlock new abilities, increase your stealth, social, hacking or combat skills, and determine how you want your character to evolve in order to fit your play style.
In the Near Future, Mankind Stands Divided
Explore diverse locations and discover a near future setting where the fate of humanity hangs in the balance. The oppression of the mechanically augmented has created a climate of fear and resentment, resulting in an escalation of crime and acts of terror. Amid all the chaos, secret organizations are working behind the scenes, attempting to manipulate and control the fate of mankind.=
Meaningful Choices and Consequences
Experience the renowned world of Deus Ex, where the decisions you make and the actions you take play a crucial role in determining the game's outcome. Choose between combat, stealth, social, and hacking approaches to achieve your objectives. Be mindful though, as there will be a meaningful consequence to every action and choice you make.