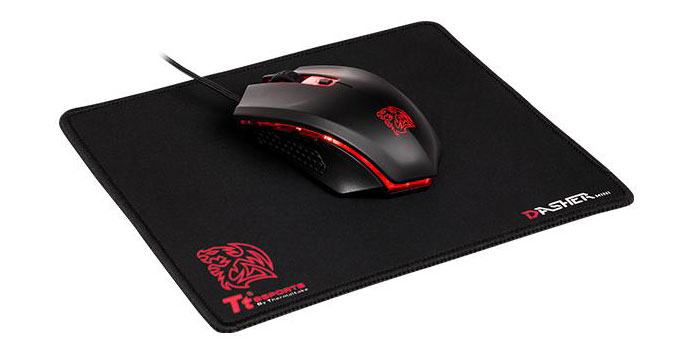 3200 DPI Optical Sensor
Full Spectrum Lighting
Low Friction Mousepad
The TALON X Gaming Gear Combo – This Mouse & Mouse Pad Combo is a perfect addition to your gaming desk if you're looking for something with both affordability and functionality. The pack includes a gaming mouse with a PIXART AVAGO 3050 optical sensor that goes up to 3200 DPI and comes equipped with a 10 million click lifecycle rated OMRON switches. It also features static and spectrum running lighting effects to bring color to your gaming. The combo is completed with a DASHER Mini Slim Gaming Mouse Pad with low friction surface design and anti-slip function. It also provides improved mouse movement to suit all gamer requirements. The combo pack is light in weight, offering easy portability and definitely the combo for your gaming!
Mouse Specifications:
COLOR: BLACK
SHAPE: ERGONOMIC DESIGNED FOR RIGHT HAND AND LEFT HAND
NO. OF BUTTONS: 6
USB CABLE LENGTH: 1.8M
OMRON SWITCHES: RATED FOR 10 MILLION CLICKS
DIMENSION: 122.93 x 71.25 x 42.45 MM
LED COLOR OPTIONS: FULL LIGHT WITH RGB COLORS
LIGHTING EFFECT: STATIC, SPECTRUM RUNNING, OFF
WEIGHT(G): 140
Mousepad Specifications:
DIMENSION: 250 X 210 X 2 MM
SURFACES: CLOTH WEAVE
BASE: NON-SLIP POLYURETHANE
OTHER FEATURES


OPTIMIZED FOR ALL TYPES OF GAMING MOUSE WITH LASER OR OPTICAL SENSOR, OFFERING TOTAL TRACKING RESPONSIVENESS FOR CONSISTENTLY RELIABLE IN-GAME CONTROL.
LOW FRICTION AND HIGH PERFORMANCE, IMPROVING MOUSE CONTROL AND PRECISE MOVEMENTS.